Have you ever noticed how parents always feel children's clothing? Why we always look at the materials used to make the pajama set and then the design or style?   
Well, when it comes to choosing the right sleepwear for a child, our top priority has and always will be their child's comfort and safety. Is the fabric lightweight and breathable? Will it keep my child warm? How soft is the fabric? All questions that run through our minds when buying children's clothing.   
But why? Unlike adult clothing, where we base 90% of our decision on the style, why is it different when it comes to children's clothing? And specifically, children's sleepwear?   
Well, beautiful reader, it's because it can significantly impact our children's health. That's right! The pajamas we tuck our little dreamers away in at night can have significant implications on their health. Especially if the material is not seasonally appropriate. 
But fret no more. We're breaking it all down for you. From what climates call for what materials, to how materials affect quality of sleep, we're covering it all!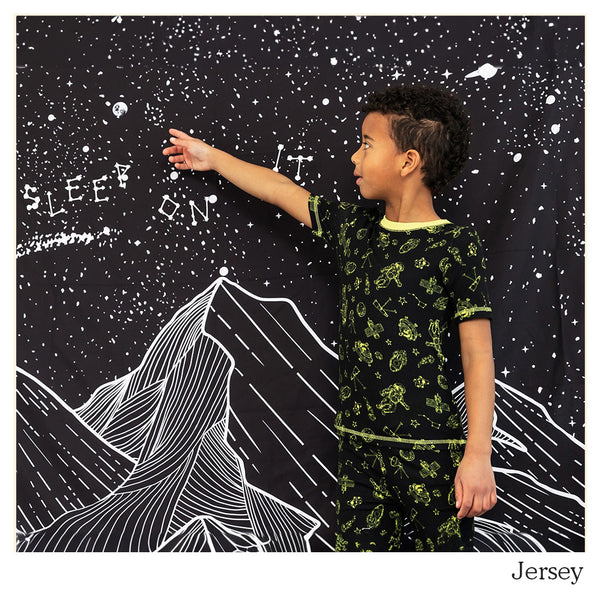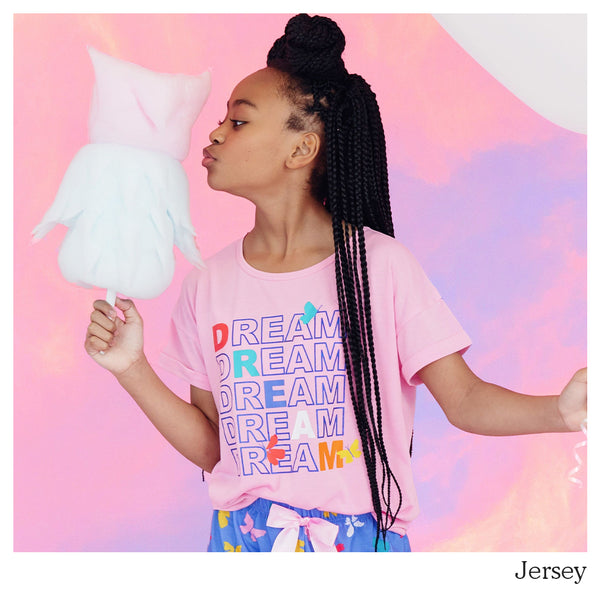 Hot and Humid
Summer is usually filled with cold treats, swimming and sports, sandcastles, and family barbeques! However, summer days also bring the summer haze. You know, the hot, humid weather that often leaves us in an annoyingly sticky situation (and not the good kind). Our hair is twice its normal size. The feeling of never being quite dry. And tiny little humans... well they feel it even more!  
But what if we told you that there is one old but gold trick that could help ease the situation? A jersey fabrication is great for children's pajamas!  
That's right. Like we said at the beginning, the fabric matters. Lightweight, breathable, and with a little stretch, jersey is a material known for being a summer go-to fabric, especially when it comes to pajamas. For example, our Space Man pajama set or the Butterfly Dreams set are both classic choices in hot and humid climates. It absorbs moisture, helps keep your child cool by allowing air to circulate, and, as a bonus, it's extremely gentle on the skin.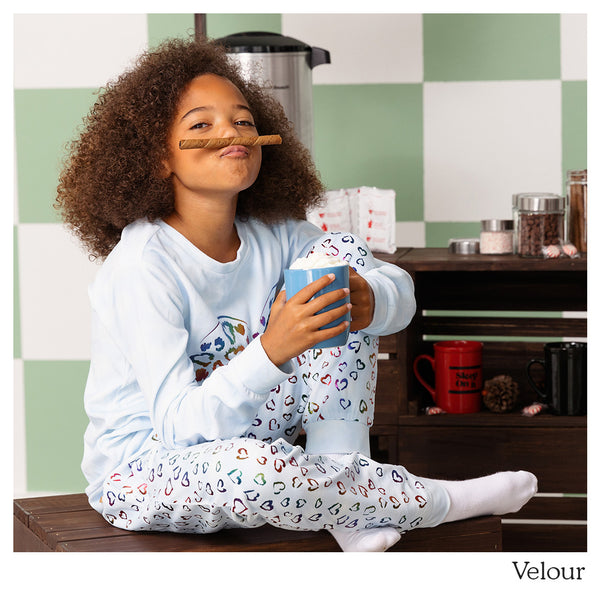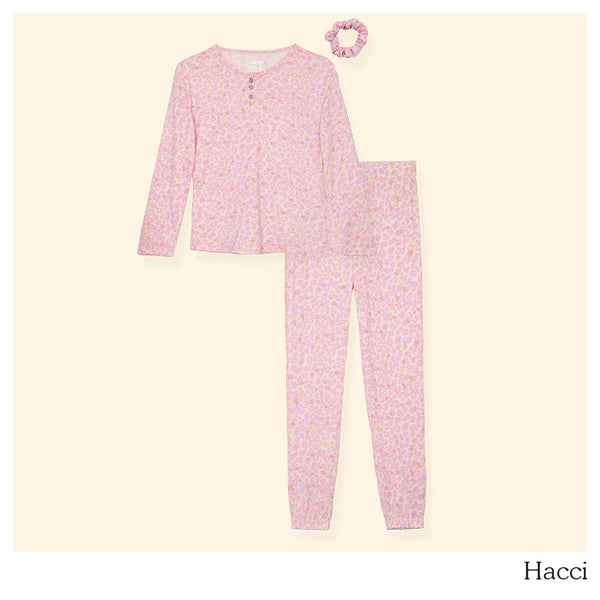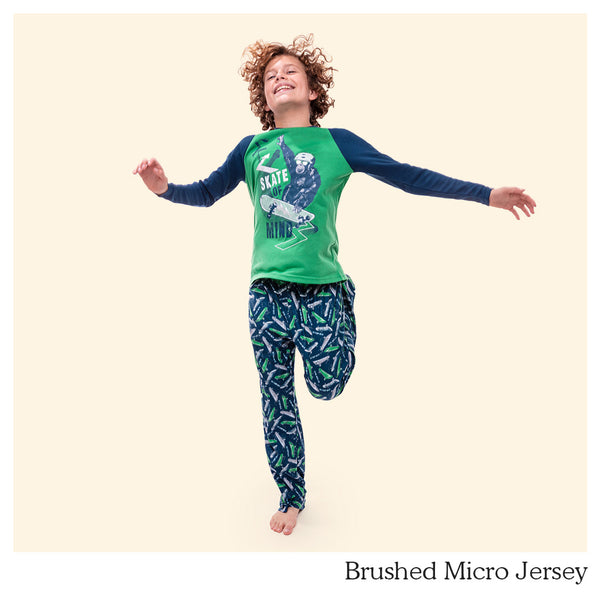 Cold and Dry
If you thought you had enough problems, think again. Cold and dry weather brings a whole on slew of its own problems. It completely wrecks the skin and disrupts sleep schedules. Even more so if the little munchkin feels extremely uncomfortable.  
Therefore, just like we switch up our skin care routines during winter, our children's sleepwear also needs to be different.  
Pajamas made from materials like hacci are great alternatives for the wintery seasons. It offers a luxurious and soft feel against the skin, but what truly sets it apart for these climate conditions is its distinctive stitching pattern. With tiny little air pockets, it's able to trap enough heat to keep our children warm and cozy, while also preventing excessive sweating.  
Another alternative is velour.  Like hacci, velour also has excellent moisture-wicking abilities. However, what truly makes this fabric ideal for such climates is ability to provide enough warmth without a need for excessive layers. This keeps our children comfortable and cozy throughout the night, giving "bedtime bliss" a whole new meaning.    
Brushed micro jersey is another option that provides excellent breathability while also being able to trap heat. For example, our Skater set is cozy, plush, and oh-so-stylish, that it gives effortless lounging a whole new meaning.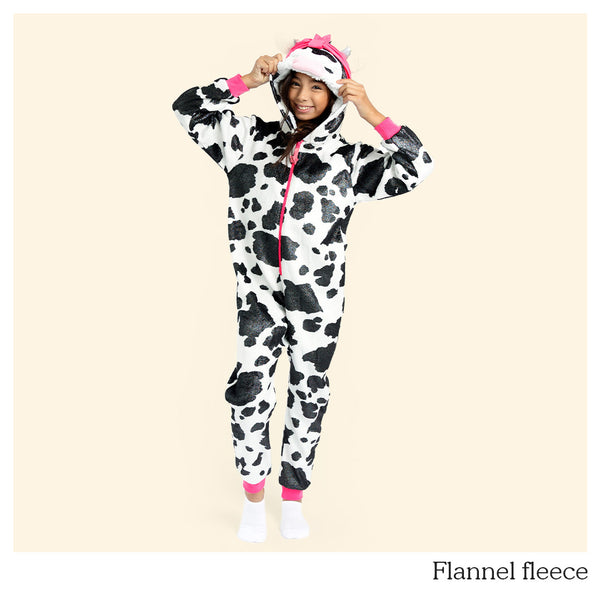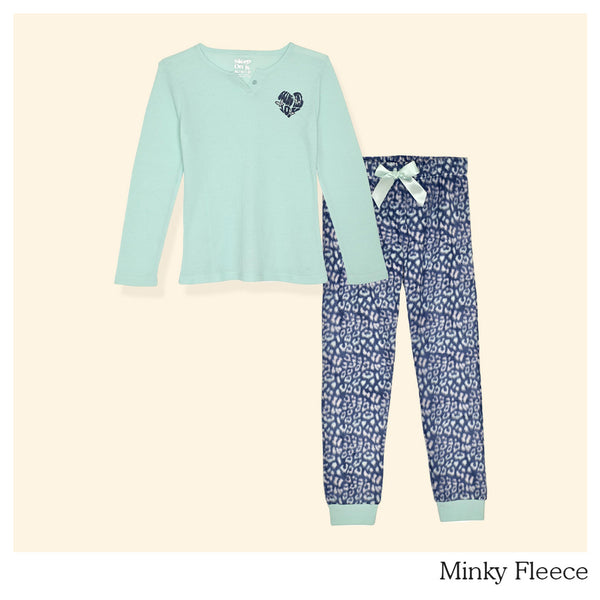 Cold and Humid
When it comes to sleep, it's not the cold that disrupts its quality. In fact, remaining cool is what turns bedtime into blissful snoozes. Rather, it's the relative humidity of our surroundings that does.  
Opting for fabrics that keep our children warm is a given. But when it comes to cold and humid conditions, fabrics that have excellent moisture-wicking properties are a must. Flannels and fleeces, such as minky fleece are great for preventing moisture from settling on and chilling the skin. And if you want something truly stylish that has a touch of whimsy to it, our Cow Leopard onesie is a must-have this season.  
How do pajama materials affect the quality of my child's sleep?  
Well, if your child is uncomfortable while sleeping, they just won't sleep as well. It's as simple as that. We're sure you've been on the receiving end of an extremely grumpy toddler. But lack of sleep due to poor quality of sleep isn't a temporary situation that they will grow out of. Rather, it's the beginning of far greater problems no parent ever wants their child to go through.  
It leads to depression, anxiety, developmental issues such as poor cognitive performance, and so much more.  
That's why opting for fabrics that are comfortable to wear and help regulate body temperature is extremely important to keeping your child healthy and happy.  
Have you ever noticed how parents always feel children's clothing? Why we always look at the materials used to make the pajama set and then the design or style?