Babysoft Stretch Jersey
Warm yet lightweight, our most supple fabric was made for snuggling close to babies' delicate skin. 95% cotton is blended with 5% spandex for the just the right amount of stretch to envelop wiggling arms and legs without restricting their movement.


Brushed Micro Jersey
Soft and lightweight with a cotton handfeel, this jersey blend is the perfect everyday fabric for kids on the go. Think of it like your favorite t-shirt: it's breathable to keep them cool, flexible so they can move freely, and ultra-durable to keep up with the endless wash-and-wear cycle.


Hacci
A little thicker than jersey, this silky open knit has the feel of a super-light sweater. It's loungey and drapes loosely over skin, making it great for periods of longer wear. If we had to pick a fabric to wear on a cross-country plane ride, hacci would be our go-to!


Minky Fleece
Also known as cuddle fleece, this buttery-soft material is ultra plush on the outside and smooth on the inside. It has less of a pile (the three-dimensional quality of the fibers) and is thinner compared to other types of fleece, making it snuggly but not bulky.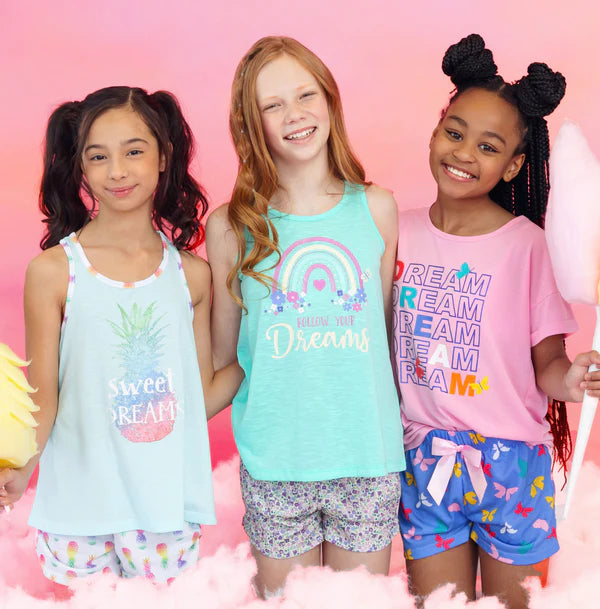 Furry Fleece
As its name suggests, this heavier fleece has a fur-like feel, similar to a cozy shag rug. A higher pile on the outside adds weight and warmth while a smooth inside sits comfortably against skin.


Flannel Fleece
You know those super-soft blankets you find in the gift aisle around the holidays? That's flannel fleece. This is one of our most plush fabrics, perfect for robes, slippers and all things snuggly.


Sherpa Fleece
This nubby fleece looks similar to wool. You've probably seen it on the lining of collars, sleeves and cozy winter jackets. Its heavier weight makes it a great fall and winter staple for keeping the cold out and body warmth in.


Velour
This plush, woven fabric has a silky smooth texture and a light sheen. It's ideal for capturing warmth while offering a nice amount of stretch--pretty much everything you want in the perfect piece of loungewear.